"Fireman Down". Order Here. Available Now!
"FIREMAN DOWN – Incipient" Book one in the Kent Ward Series
A late season storm starts a disaster in motion. Where human error left the door open for a catastrophe, was it truly just bad luck that caused his friends death? Or was it something more? Was it greed that drove the pyres of these fires higher. At least one fireman was dead, many more are injured. As a firefighter struggles to clear his departments good name, others conspire to stop him at all costs.
From a story that could have been ripped from the pages of the news, our intrepid hero Kent Ward works to find out the truth over why his friend had died. Why did the fires seem to target the firefighters? Who was behind setting all those fires? Were they untouchable? Just how high did the corruption go?
Follow along as Kent tries to bring those that are responsible to justice, before they remove all traces of evidence. Can he flush out the firebug before he becomes their next casualty? Locked fire escapes! Malfunctioning radios! Armed residents. Kent is facing corruption all the way to the top. Can he find a way to bring honor back to his profession?
This extremely raw and visceral story follows the camaraderie and life threatening events that real firefighters face every day. A story that will leave you looking to hide under your covers at night, unable to put the book down.
"…Take one poorly time gust of wind. Add on one bad turn of luck. As when the wind that had burst through the broken sliding door in Margarets apartment decided to gust. At that poorly timed moment, the winds had suddenly gusted higher and had pushed the wall of flames out of her front door. They went straight out and struck the opposite side of the hallway. This just happened to occur as the lieutenant popped that fire door open.
For the second time in as many minutes, Stock was sent flying down the stairs, landing in a heap again. This time it happened to be Somerson that landed on the top of him.
The explosive force from of all that heated gases had slammed the fire door wide open and had almost ripped it from the hinges. The fire ball that curled upward into the stairway had lit the area below in an eerie shadow…"
What have some of our readers said?
" …I am on pace to finish this book today and will leave another review but let me tell you this, IF YOU READ ONE BOOK THIS YEAR, IT NEEDS TO BE THIS ONE! The author does an amazing job of putting you right in the midst of the chaos and havoc, you can smell the smoke and feel the heat…"
*****************************************************************
"Dark Wave". Order Here. Available Now!
It started off as a dream vacation. Beautiful blue waters, crystal clear skies, and the man that she had fell in love with. It was as perfect of a life as she could ever have imagine it could be. But was it real? In the back her mind she kept hearing him say "Red sky at night, sailors delight. Red sky in morn, sailors take warn"
As she look out over the beautiful harbor, those word kept playing over and over in her head. The sky was anything if it wasn't foreboding. The deepening reds and oranges as the sun rose betrayed the upcoming weather. She couldn't understand why he was pushing them to keep moving south.
They had been through so much up to this point. Nasty mosquitos. Summer squalls. Even a waterspout or two. But nothing would prepare her for what was to come.
Mother nature and Murphy had other plans for them. She would soon find herself thrusts into a world so different from what she was used to that it would challenge the very core of her beliefs. It would push her to the very limits of her ability and beyond.
Could she survive? Could they survive? And could she still save the man she loved?
"Dark Wave" is a story that will challenge your beliefs in the capacity of human resolve to survive when all hope is lost. Could you survive being thrusted into the heart of a killer Hurricane?
Follow our school teacher as she falls in love with an incorrigible fireman and then finds herself leaving for a world wind trip like no other. What should have been a fairy tail trip would turn into a live and death struggle to keep them both alive.
It is a love story that gets wrapped up in a disaster that threatens to doom them both. They would need to learn to survive by drawing on their inner strenghts during times when all hope appears lost. The power of the sea and failures caused by Murphy will keep you on the edge of your seat reading.
When disaster strikes them, can she overcome her fears? Caught in a storm that has already doomed one ship, are they destined to be next?
What the movie "Jaws" did for swimming, this will do for your dreams of Sailing.
So, if you have ever dreamed of sailing off into the sunset on crystal blue seas, longing for beautiful islands and lush green forests, don't read this book. You will never want to leave dry land again! So grab your life jackets and rain coats.
"… With the boat upside down, no one could hear the screams that came from inside. Lea who had been asleep, all curled up in a corner only moments before, found herself tossed about like a rag doll only to land on the ceiling. Water gushed in from both under her and around every window…"
The author of this story is a retired Firefighter/Paramedic that now lives aboard an aging sailboat in the Florida keys. Author of "Dark Wave" and the new novel "Fireman Down", he now travels aboard his sailboat 'SE of Disorder'.
An experienced sailor with thousands of sea miles under his keel, he brings real life experiences to the pages of his works. When not traveling the Caribbean, he resides on the waters of Key West, Florida.
"My writing is drawn on real life experiences to immerse the reader into the novel and feel the terror of when things go south. All that is lacking on this story is the feel of icy salt water as it hits your face."
What some of the readers thought of the book…
"Descriptive, good detail of the anguish when so much time and preparation has gone into, would the dreams be only that. Looking for more by author." And from another reader. "Liked the premise of this story, however needs editing. Lots of editing. Many sentences made no sense at all."
Unlike some authors, my writing style is a bit different. Some readers will not care for my writing style. Some of the errors reported were intentional. Others just might be a typo. I am happy with the work as it was published, and have no problems sharing all opinions from my readers, good or bad.
******************************************************************
New Releases!
FIREMAN DOWN – FREE BURNING
********************************************************************
TRULY OBNOXIOUS BLONDE JOKES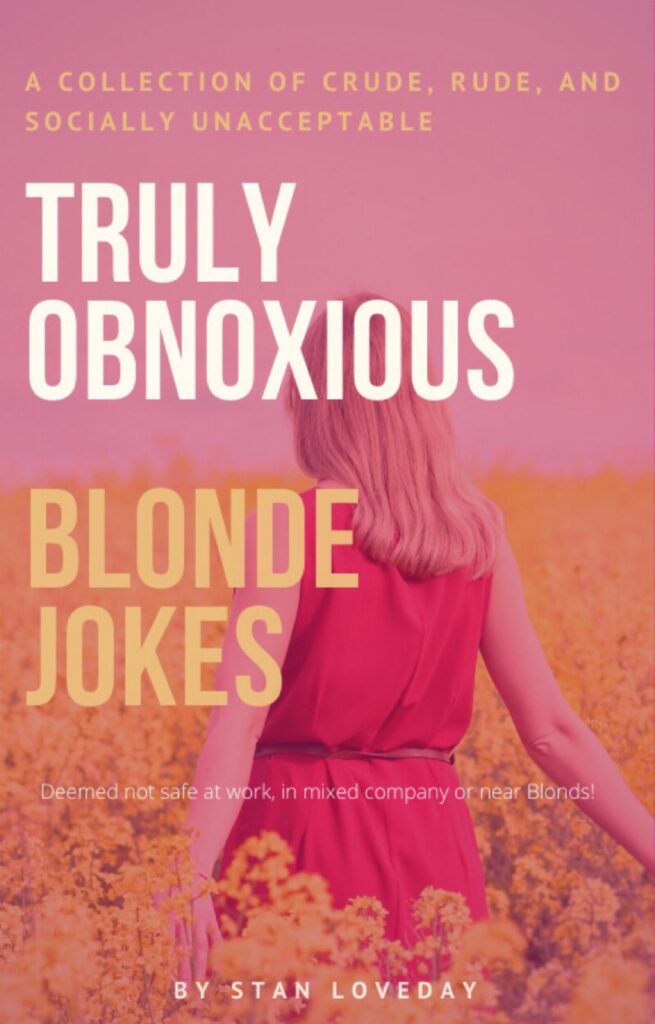 **************************************
The Last Plague